2021 Annual Show
Event Navigation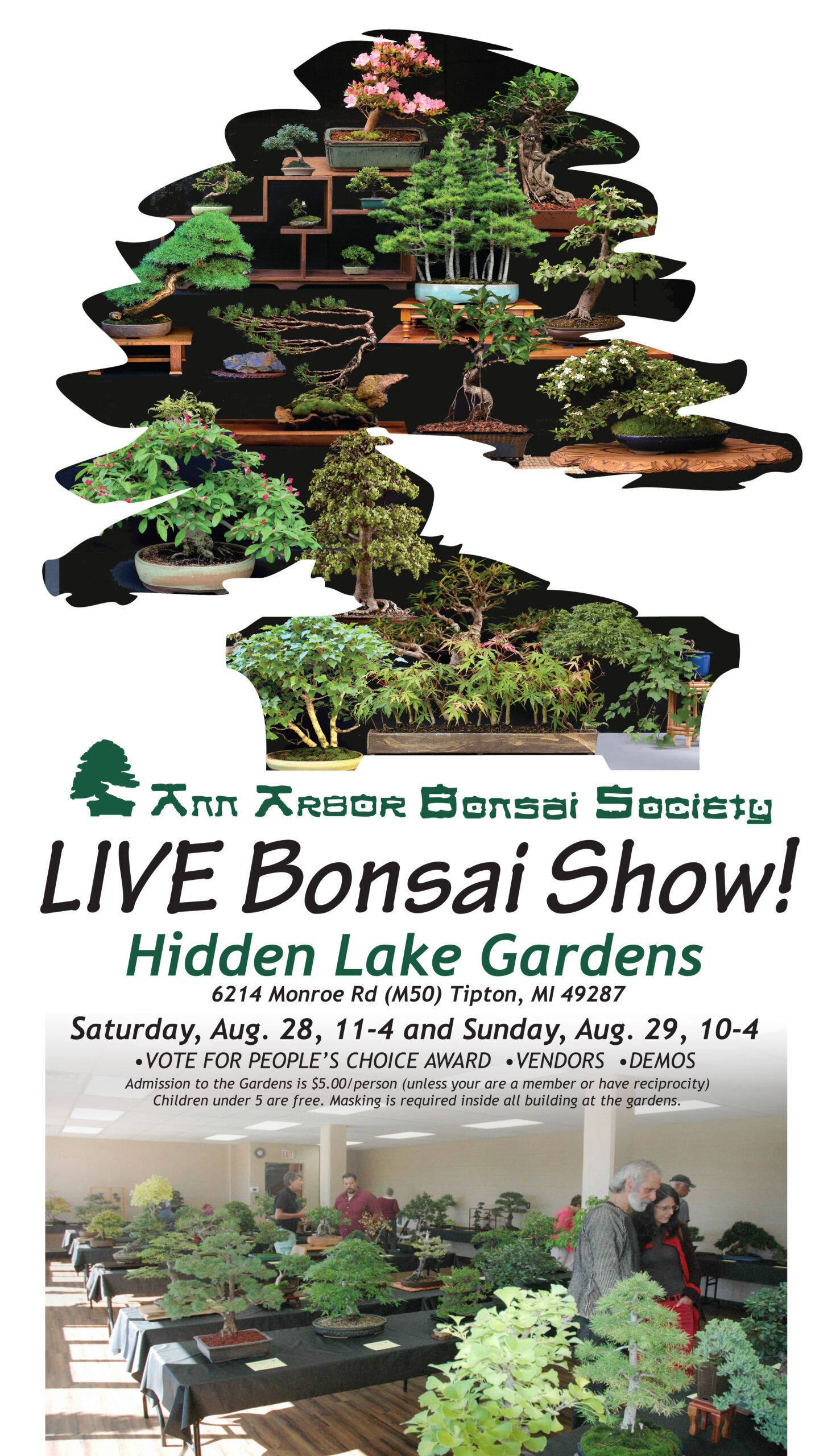 The Ann Arbor Bonsai Show is a go! Things are going to be a little different, but at least we will be having an in-person show. Please find all of the details as well as a call for volunteers below.
Location: Hidden Lake Gardens, 8214 Monroe Rd (M-50), Tipton, MI 49287
Show Dates and Times: Saturday August 28th 11am – 4pm & Sunday August 29th 10am – 4pm
Admission: We will not be charging admission to the show. There is an admission fee of $5 per person to enter Hidden Lake Gardens. If you are a member of Matthaei or Hidden Lake Gardens you can get in at no charge. A face mask is required inside all buildings at the gardens.
Showing a Tree: To enter a tree into the show, please fill out this Show Tree PDF Form with the relevant information about your tree and bring a printed copy of the form to the show. The form does not need to be submitted prior to the show. We will need the "CLUB COPY" and "OWNER'S COPY" and "DISPLAY COPY" to be filled out before you come and you need to turn one in when you check-in and bring the other with you to take your tree out of the show. For safety reasons, backing boards for your "DISPLAY COPY" will be provided at check-in. If you wish to enter anonymously on the display card, leave the name field in the form empty and handwrite it in after you print out the form. No need to separate the parts of the form, that will be done at check-in. Tree check-in will be Saturday morning from 8-10am. This is a very short window so please be prompt and have your form filled out and printed. The show is being held in the Visitors Center, in the room to the right of the front doors. Please bring your trees and accouterments, along with your registration form for each tree, to get registered. Someone will be at the curb to greet and help you unload your tree(s) and point you to the registration desk. There will be a People's Choice Award for the tree that receives the most votes from attendees. There will be no dinner or critique this year.
Vendors: There will be vendors outside on the lawn.
Food Truck Vendor: My Little Honey Pot serves "delicious, healthy, epicurean cuisine with vegan and gluten-free options."
Demonstrations: There will be two free demonstrations each day at 12pm and 2pm taking place outside by the vendor area. Additionally, there will also be a kusamono demonstration at 1pm on Sunday. Supplies will be available for purchase if you would like to make one.
Call for Volunteers: We will need people to be at the show to answer questions, hand out and collect People's Choice forms, and perform the demonstrations mentioned above (you can bring your own tree, or we can supply some). We are asking for 2-hour time commitments starting at 11am on Saturday and 10am on Sunday. Anyone interested in doing a demo or volunteering, please send an email with your availability to Kurt Smith, Flowerdude27@hotmail.com.
Directions: After a drive into the gardens, Hidden Lake will be revealed. Take a left up the hill to the first building you see. That is the Visitor Center.