Jack Wikle 90th Birthday Celebration and Auction
Event Navigation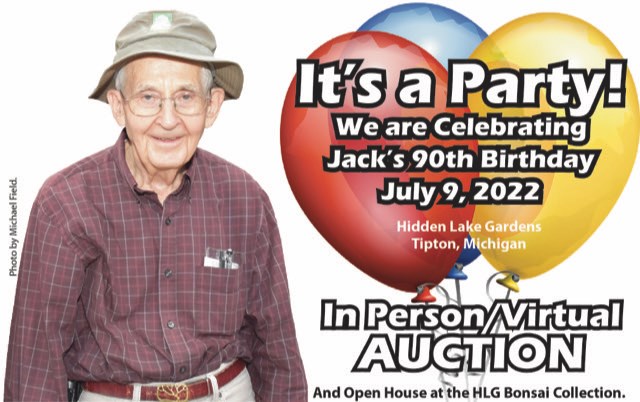 Jack Wikle 90th Birthday Celebration and Auction at Michigan State University's Hidden Lake Gardens, Tipton, Michigan
Jack will be donating the balance of his personal bonsai collection and related items for this auction, with all proceeds to benefit the Jack Wikle Bonsai Legacy Fund. Jack's donation will be supplemented by bonsai and related items donated by supporters of this sale seeking to promote this art form. All donors will be publicly recognized for their contributions. Sale items will include bonsai, bonsai stock, bonsai pots, tools, display stands, turntables, and other equipment. Dozens of bonsai books, bonsai magazines dating back to the mid-sixties, photos of bonsai, paintings, and other bonsai-themed artworks will also be sold. Unique to this sale are the gold-plated "remains" of two small bonsai, still in their original pots.
Jack's collection of dozens of frog-representation art pieces will also be sold.
YOUR OPPORTUNITY TO HELP: DONATIONS OF AUCTIONABLE ITEMS ARE INVITED IN SUPPORT OF THE JACK WIKLE BONSAI LEGACY FUND.
For the most up-to-date information on the Celebration visit: https://jackwiklebonsailegacy.com/?page_id=1087.