January Meeting – Virtual
January 27 @ 6:30 pm

-

9:00 pm
Event Navigation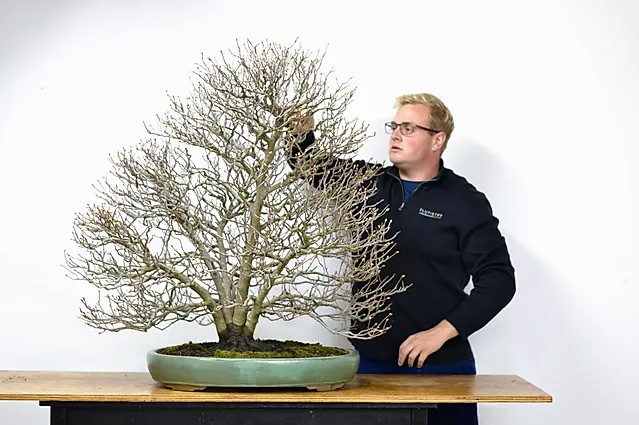 January 27 – First Meeting of the Year, Virtual
Andrew Robson to Present Fall/Winter Deciduous Work
The first meeting of the year will take place on the evening of Wednesday, January 27 beginning at 6:30 on Zoom with a half-hour informal chat. The formal meeting will begin at 7:00 with Andrew Robson presenting "Fall/Winter Deciduous Work". This will be a Powerpoint presentation followed by a Q&A.
Winter is the best season for deciduous study. After leaf drop in autumn is the optimal time to access where a deciduous bonsai is and where it needs to go with its development and maintenance. While most deciduous bonsai work happens in the growing season, most deciduous bonsai analysis happens in winter silhouette. This presentation gives strategies for how to study our deciduous bonsai in winter, how to access where they are and where they need to go. Additionally, we'll study deciduous bonsai aesthetics, the different forms, and combinations of branch patterns, and the differences between trees, shrubs, styles, and approaches. As always, we'll conclude with a deciduous bonsai Q&A.
Andrew Robson is an emerging deciduous artist in the American bonsai community. Andrew recently completed a 3-year apprenticeship with Michael Hagedorn, after graduating from Yale University. Andrew serves as a member of the Portland Bonsai Village, and has previously served as a board member of the American Bonsai Society. He currently exhibits work at the Portland Japanese Garden, and regularly lectures at the garden's Japanese Arts Learning Center. Andrew and his family are currently building a deciduous-focused bonsai garden, school, and nursery, RAKUYO-en, just outside of Portland, Oregon. While some conifers hang around RAKUYO, the overwhelming focus is on deciduous bonsai.
Zoom meeting information will be shared prior to the event.